It's time.
Not just to 'pivot' your business but to actively allow it to Evolve.
You have an incredible message to share with the world.
You have invaluable wisdom and insight.
The world is ready for it now more than ever.
Join me and a small group of other amazing women for a 12 week online immersion to help you to Evolve your business to Amplify your Impact.
Read on to see if this is align for you & apply…
Coaching, Connections, Clarity & Courage
For the past 10 years I have been helping people to shine. To be seen & heard on a bigger level so they can have a positive impact on the world.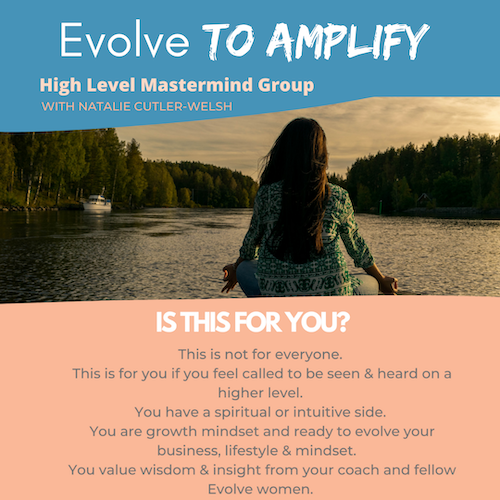 Awesome & Inspirational Online Group Coaching for your Business
This is for you if you are ready for more. Impact, Income. Less busy-ness and more empowered business.  If you are ready to evolve your business, lifestyle & mindset to be fully align with the leader you are born to be and open to wisdom and support of a coach and other women.
Perhaps you want to create a membership or a digital offering, perhaps you want a more effective marketing strategy and messaging that is align with who you truly are.
Perhaps you need help with your pricing and packaging to attract your ideal clients and create the lifestyle you desire. Perhaps you're ready to amplify your visibility and create opportunities to have more empowered impact.  Let's do this!
We meet weekly on zoom for 12 weeks.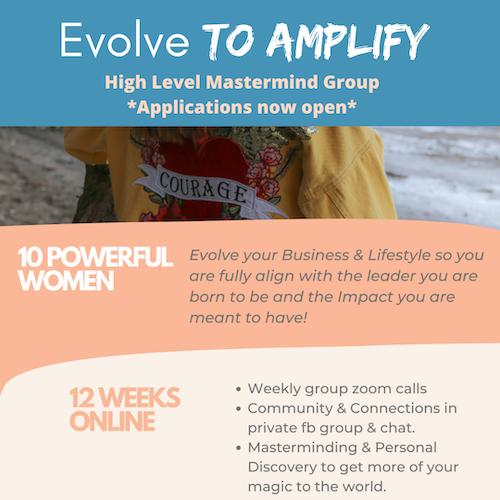 Are you ready for Evolve?
This 12 week program includes a weekly group zoom call for masterminding, coachnig and hot seats plus 2 x 30 min 1-1 coaching sessions that you can use anytime during the 12 weeks.
You'll gain additional support & accountability in the Evolve private facebook group. 
You'll gain insight to maximise your marketing and digital presence to help you evolve and amplify your business in 2022.
Click here to Enquire or Apply for Evolve
Enquire/Apply to Evolve to Amplify
Evolve private Fb Group
During the 12 weeks you can ask questions, gain insihgt & support in the private Evolve facebook group.  
1 x /week Group Zoom coaching call
Once a week we connect online for coaching, questions, accountability and insight to Evolve your business for more impact and income. 
We meet for a power hour on zoom. Once you join you'll get calendar invites & links.
2x 30 minute 1-1 zoom coaching sessions
This is your chance to get even more personalised strategies for your marketing, visibility and business expansion.  Use them anytime during the 12 week program. 
Coaches, consultants, solopreneurs, speakers, authors, network marketers, business owners or anyone who wants to evolve their business (lifestyle, relationships, mindset etc) to Amplify their impact and income. 
You could be a Health Coach, Parenting expert, Wellness mentor, Foodie business, Beauty business, Business coach, Landscape Architect, Physio, and more!  If you are growth mindset, coachable and ready to up your brave and evolve your business this is for you!
Full pay: $3000+gst (save $300+)
3 pay: $1100+gst/month for 3 months
6 pay: $555+gst/month for 6 months
Your
Evolve to Amplify coach
Join me, Natalie Cutler-Welsh and other awesome fun & impact-driven business owners who like you, are ready to evolve their business.
Who am I?
Over the last 15 years as a facilitator, personal development, visibility & business mentor and professional speaker, I've been helping busy Business Owners and speakers to Up Their Brave, raise their resilience, evolve their business, hone their message and Amplify their Impact so they can change the world for Good.
As result they have strengthened their marketing, visibility & connections, and created opportunities to get their message out, grow their business and help more people!
Claim your spot and let's do this!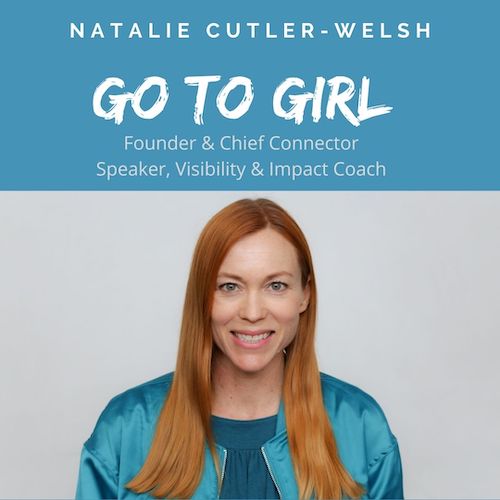 How can Natalie/Go to Girl help to grow your Business?
Here's what some of my clients have to say…
"I have made so many incredible connections and genuine friends through Nat & her talent for connecting people.  It's definitely helped me to grow my brand and my business".
"I love meeting new and interesting people who also want to contribute to the community. I have connected with so many already and look forward to more empowered connections".
Got Questions about Evolve or Coaching?
leave me a message below and let's chat!